Skills to make Friends
Most children are keen on making friends, and they may need specific skills to connect with other children and make friends. Children with learning disabilities and ADHD need to learn listening and social skills to make friends. They also need to cultivate awareness and social control.
Skills to make Friends – Conversational skills
Children with learning disabilities and ADHD lack specific social skills that help them in having productive conversations. A good conversation ideally has four parts – joining, starting, maintaining and ending. Your child will need to learn some essential conversational skills like understanding facial expressions, body language, and tone of voice to have a fruitful conversation. Developing conversational skills takes a lot of direct instructions, practice and time, so you must be patient with your child and reinforce these skills regularly.
Skills to make Friends – Awareness
Teach your child to size up a situation, and the feedback of others during an interaction. Teach them to recognise the message their actions, words, tone and body language are sending. Teaching your child to be aware of a social situation and know when to start or stop talking based on what's happening.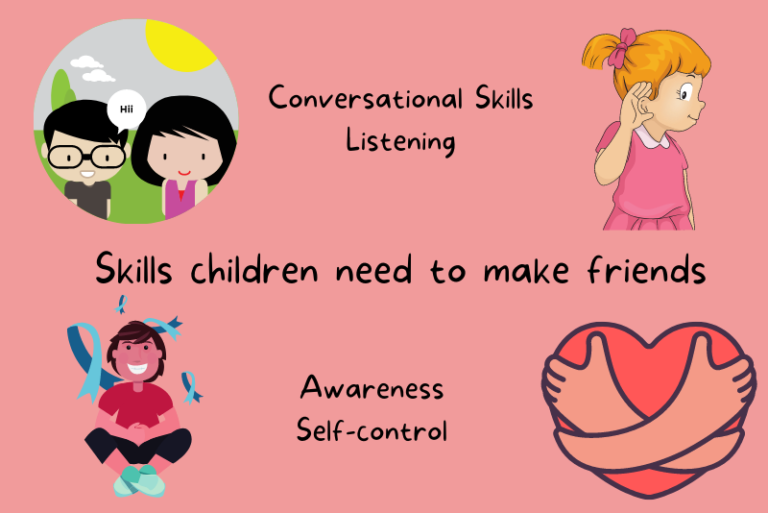 Skills to make Friends – Listening
Listening to others is also a skill that your child needs to develop along with conversational skills. Your child will need to maintain focus when others are speaking and at the same time, understand what they are saying. Teach them to understand other's point of view and model similar behaviour at social gatherings.
Skills to make Friends – Self-control
Self-control is essential for navigating through social situations successfully. Children with learning disabilities and ADHD may struggle with self-regulation. Teach them to respond in a way that is not hurtful or disrespectful. Show them relaxation techniques and strategies to handle difficult situations. Television series, movies and sporting events are great for pointing out examples of people managing their feelings well or losing control.
Skills to make Friends – Adaptability
Adaptability means learning how to respond to new information and situations, for which your child needs to be prepared in advance so that the new, sudden turn of events does not surprise them. Adaptability is also the skill that teaches a child to "shift gears" when they suddenly find themselves in a unique situation. Adaptability is also a foundational skill to other skills like teamwork and problem-solving. As a parent, you need to put your child in imaginary situations where they are required to make on-the-spot judgements and quick decisions. You can also ask your children to make sudden choices when they accompany you to the market or public offices, like banks, especially when they least expect you to hand over the charge to them.