How parents can support learning at home – Dyscalculia
There are many ways how parents can support learning at home – a child can be helped at home, allowing them to better cope with dyscalculia. For this, you must have the essential information. You must know what the child particularly struggles with and what their problems exactly are, as the kind of difficulty one experiences in dyscalculia may not be the same or even similar for all children.
Since it is a disability that affects different areas of daily life and not just academia, there are many activities at home that your child can learn through.
How parents can support learning at home – Dyscalculia
Positive encouragement always works. You should praise the work they do and the effort they put in and not focus on the result. Do not get frustrated if your child cannot understand basic concepts, like addition and subtraction. Instead, patiently guide them towards the solution.
Use examples of mathematical significance from daily life and the experience of the child to teach simple concepts. Whenever possible, point out the utility of maths in everyday life, building a sense of number application in daily life. E.g. while paying for ice cream or candy, ask how much change they will get back or while grocery shopping let them calculate the number of biscuits required for a week.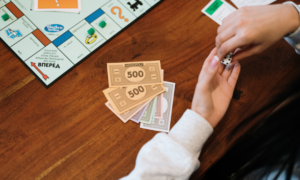 During playtime with your child, try to play games that involve numbers and calculations to make them understand that maths can also be fun, e.g. Monopoly, candy land, Jodogyan etc.
Talk to your child and make them understand that the issues they are facing are not their fault but are due to their condition. Encourage them to identify their areas of strength. Explain to them that everyone has unique strengths and areas that need improvement. It will help boost their confidence and shed any negative beliefs they might have.
Use rhythm and music to teach steps, draw pictures of mathematical word problems and facts, use coins or blocks to do simple maths problems.
Ensure they have the right tools and devices, like sufficient stationery, erasers, and a calculator, which is easy to use to help them with their homework.
Let them use their fingers to count if they are unable to do mental maths
Use visual representation like charts and time-table to help them manage time.
Teach them self-advocacy; it will help them be independent in school, they will be able to ask for help from teachers when they get stuck or are unable to understand the concept
There are so many ways how parents can support learning at home, but parents need to make sure that they are in constant touch with their child's teachers to be aware of their progress and overall performance and, therefore, their changing needs.
Children who struggle with learning disabilities are often under-confident, suffer from self-esteem issues, and may feel ashamed of their problems. One more way how parents can support learing at home is to help your child develop a growth mindset whereby they start believing that their skills can improve and help them understand that they do not have anything to be ashamed of or be embarrassed.