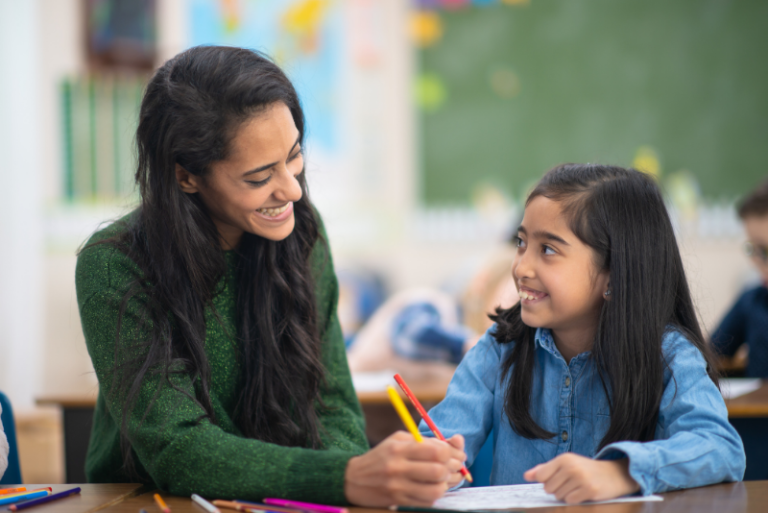 Learning Disability and ADHD – Strategies to Understand your Students
The very first step toward an inclusive classroom is getting to know ALL your students. Educators must know their students well, in terms of strengths, areas of growth, interests, socio-cultural and family background- to whatever extent possible.
If there are students with diagnosed disabilities in your classroom, brush up your knowledge about  learning disabilities and ADHD and how they affect a student's ability to learn. Ideally, the school administration should provide teachers with a list of students with learning and attention issues before the school year starts. It is beneficial if teachers gather as much information about them as possible – read through their files, talk to their previous teachers, special educators and contact their parents. Students with disabilities usually need more support or attention to make sure their needs are being understood and met by the curriculum.
Try not to develop preconceived notions based on the disability or what you hear from other professionals. The intention should be to get as much data and observations and to avoid judgment or people's perceptions of the student.
Once the school year starts, spend an initial few weeks on getting to know all your students and building a rapport. Students with learning and attention difficulties greatly benefit from a strong relationship with their teacher. They feel much more confident and motivated when they get a sense that their teacher makes an effort to understand and support them.

Apart from learning about their abilities academically through classroom discussions and formative assessments, here are some ideas on getting to know more about them as individuals:
Observe your students, in the classroom, in extracurricular classes, at lunchtime
Create Identity charts: These include words or phrases that describes a person or titles that we identify with, for example, nationality, gender, age group, profession, religion, ethnicity, our interests, talents etc. These can help teachers know more about their students and also help students to learn about each other. Here is an example of what it might look like: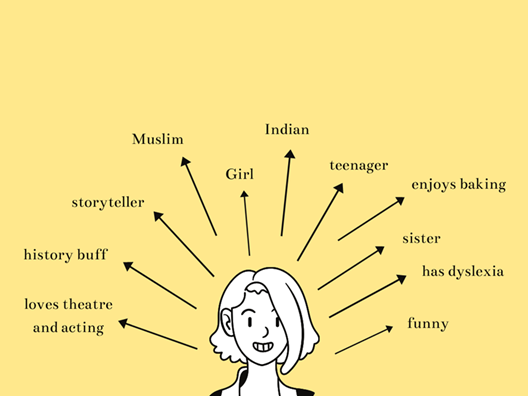 Create Learner Profiles: They are somewhat similar to an identity chart but more elaborate. Profiles should be student-driven and made along with the student and parents. Students will be able to convey not only their interests and background but also what they are like as learners – what they like, dislike, what they need in the classroom, what helps them learn best, what hinders their learning and so on.
Student or family questionnaires: To start a positive relationship with students, teachers must have a similar relationship with their parents. Parents have specific insights on their children that can help the teachers in the long run. Develop a set of questions that you would like your students and their families to answer.
Goal writing: Ask your students to write goals for the year- these could be both academic as well as personal. These questions, when asked, will give you an insight into the students' mindset:
Three things that make them unique- skills or attributes they possess
If they could spend the whole day doing one thing, what would it be?
If they could be anyone in the world, who or what would they be?
What do they love reading about or watching videos on?
What helps them learn best?
What hinders their learning?
What do they think they are good at/ need to improve upon?
What is something that went well last school year that you want to continue?
What is something new you want to start/learn this year?
Getting to know your students can help you:
Know them more than just students, i.e., beyond their academic capabilities. You get to know them as individuals with varied personalities and identities.
Understand and work with them better individually.
Design material and content in a manner that caters to multiple strengths, interests and identities.
For example, a student with dyslexia may need significant support or alternate mediums, such as a differentiated worksheet, text to speech, or a partner reading for them. However, if the teacher is aware that a student is passionate about history or marine life or are good at art – the teacher can incorporate these strengths into different topics or assignments. For example, in an English writing assignment, the student can be given the option of writing about history or marine life. Similarly, in science class, the teacher can form groups based on the interests and strengths of the students. Let one group investigate the historical aspect of the concept. In contrast, another group may create a model, or an artistic project based on it, whereas a third group may write a children's book on the same concept. This way, the student with dyslexia can choose to be in the group that plays to their strength. There is so much flexibility that can be incorporated in the lessons once we know our learners better.