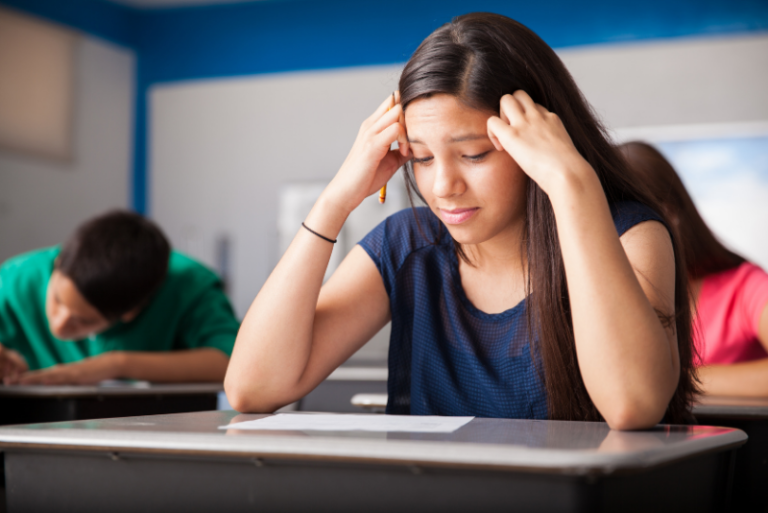 Tips to Study for Exams and Assignments
Exams can be a great source of anxiety for children in general, and those with learning disabilities and ADHD in particular. They also lead to frustration and an increased fear of failure, not because of a lack of ability but because their neuro functions inhibit potential. Assignments at home, and studying for exams can thus create specific challenges for your child. Here are some tips to study for exams help overcome challenges:
Tips to Study – Time Management
Staying organised or sticking to a schedule can be another challenge for children with attention problems. You can instill a better sense of organisation and time management with the following tips:
Create a general schedule for your child so that they have a specific time to study. This way, they can concentrate their energies, and since the time is assigned, you can also be there to help them when needed.
Use visual forms of organisation like checklists or progress bars. Break up tasks into sections and help your child keep track of these sections either through a checklist or a progress bar. After completion of each section, ask your child to cross off the task on the list or colour that section in the progress bar.
Study with a colour-coded system. Using markers, highlighter or even coloured paper and folders. Teach your child to segregate and prioritise work. It adds another visual element that not only will help them keep attention but also teach them the basics of organisation.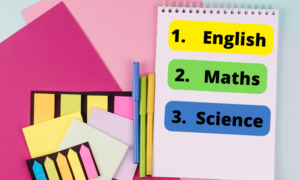 Tips to Study – Using multi-sensory methods
Memory can be a fault line for those battling learning disabilities. The challenge arises from either a weak working memory (or short term memory) or with issues around attention. Memory can be facilitated by first figuring out the medium in which your child best processes information – visual, auditory, written, etc. – and then by using multi-sensory learning techniques. These include:
Math: visualising numbers with physical objects or toys. E.g. Use dried beans to visualise basic addition and subtraction problems; cubes and tiles can be useful visual alternatives to understand basics of measurements, areas, perimeters, volumes, fractions etc. Use kinetic methods, using movement in learning, to increase engagement, e.g. children can use their arms and rotate them to understand angles.
Reading and Writing: these methods range from the use of touch to work on muscle memory to visualisation techniques that can help build memory from sight. Some examples include – writing with fingers in sand or shaving cream while also letting the child sound out the words to help them make multi-sensory connections with the words. Use writing in the air to reinforce the distinction between similar-looking words like 'b' and 'd'. Use word toys like magnetic tiles to help children with reading and writing, colour code the tiles, use different colours for consonants, vowels and punctuations, so children develop a visual understanding of grammar.
Tips to Study – Boost memory in general:
Work on paraphrasing, that is, after your child has read a concept, ask them to 'teach' it back to you. It will help them engage further with information as they analyse it and mentally file it, while you also get an overview of their understanding of the subject.
Further, ask questions about their coursework and reading so that their mind is always active.
Play memory games – these can include basic games like matching blocks to card games like Uno, Go Fish, etc. Games help children remember not only the rules but they have to work to remember the cards that they or others have played, thus engaging short term memory.
Help them make broader connections with things they already know of; this can include musical references too. Mnemonics is another right way to build associations and work in long-term retention.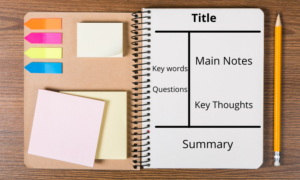 Tips to Study – Note-taking
Taking notes can be a useful way to break down the course to remember it for exams, which unfortunately are mostly memory tests. However, note-taking also requires adept organisation skills and specialised use of reading and writing. These steps can, individually or all together, be difficult for your child. Teach your child some note-taking methods:
The Cornell Method: Ask the child to split the page into parts – a narrow column on the left, a wider column on the right and a box at the bottom. Ask them to write the main points, as taught in school, on the wide past. After the lesson, ask and help them to identify the crux of each topic which can then be jotted in the narrow left part (doubts can also be jotted in this part and brought up with the teacher the following day), next to each broader point. Finally, ask them to summarise the lesson in the box.
The Outline Method: Ask them to summarise the topics in short phrases or sentences, making a basic outline of the lesson. These can be divided into 'main' and then 'sub' ideas. It helps them figure out the relative importance of topics. Then, identify the essential points and write in detail about them.
Bullet Points: similar to the outline method, but less structured, ask your child to assign symbols for primary and sub-ideas, and then these can be used during the lecture and organised later into cohesive structures at home, based on the assigned bullets.
The Mapping Method: for more visual learners, teach children to map out ideas using bubbles and then connecting them with lines. This way, while they later study for an exam, they will more easily be able to connect relevance.
Ultimately, it is imperative to develop good – broad – study skills. Children need to internally figure out what strategies and methods best work for them vis-a-vis learning. The sooner this is done, the easier it is for your child to prepare and adapt down the line. Using these tips to study can also help reduce stress and anxiety about school.