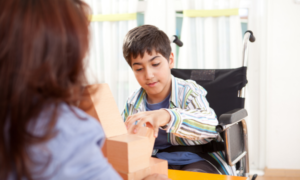 Benefits of occupational therapy for ADHD and Learning Disabilities
The benefits of occupational therapy for ADHD and learning disabilities are many especially in daily activities, ranging from dressing, eating and swallowing, bathing and showering, toilet hygiene, personal hygiene and self-care. It also improves social skills, balance, coordination, fine motor skills, and so on.
Most commonly, occupational therapists work with children having learning disabilities, attention issues, mental health issues, and physical disabilities. Occupational therapy can help with just about any problem that severely hinders a child's participation in society and school. 
Occupational therapy can prove beneficial to children and teenagers suffering from:
learning problems like dyscalculia, dyslexia, and dysgraphia
poor balance
autism
Down's syndrome
issues with function-execution
mental health or behavioural issues
ADD
visual-processing problems
developmental-coordination disorder or dyspraxia
Children with learning disabilities, ADHD, and dyspraxia, often find it hard to coordinate their muscle movements with the sensory input they are receiving because of how their brain functions and responds to information. Additionally, trouble with sensory processing may lead a child to underreact or overreact to situations resulting in breakdowns or hyperactivity. Occupational therapy is one of the most widely applied treatments for improving such inadequate responses. It is also the primary form of therapy for developing fine- and gross-motor skills and motor planning, making it a desirable treatment option for learning disorders.
Occupational therapy process
Occupational therapists work in various settings, including hospitals, rehabilitation centres, nursing homes, schools, mental health facilities, child clinics, social-care services, corporate offices, voluntary organisations, non-governmental organisations, or independent practitioners. You may also ask an occupational therapist for home visits, as the need be. Occupational therapists often work in coordination with other health professionals, like doctors, psychiatrist, psychologist, physical therapists, or a counsellor, as they are the people from whom the referral comes, after which the therapist starts working.
First, the therapist observes your child to identify their strengths and weaknesses in performing various activities and occupations. The therapist may ask you questions about your child's age, medical history, referring doctor or paediatrician, diagnosis, areas where challenge or limitation is experienced, and the reason to have opted for therapy. The purpose of the interview is to obtain preliminary information about your child and establish the areas where help is required. The therapist might also assess your child for coordination, sensation or sensory abilities, range of motion, balance, and muscle strength. The length of this consultation can vary anywhere from 30 minutes to several hours, depending on how well your child participates in the process. The therapist then designs a treatment plan that suits your child's specific needs.
The treatment plan, also known as the plan of care (POC), includes both long- and short-term goals specific to your child's needs, as well as the techniques needed to accomplish those goals. You and your child must work with the therapist to achieve the goals set for the treatment. The therapist will address motor problems, visual-perceptual deficits, organisational abilities, and difficulties arising due to co-morbid conditions, like dyspraxia and ADHD, in the treatment plan. For example, children with learning disabilities often experience difficulty keeping themselves organised, especially if they have a comorbid condition, like ADHD and learning disabilities. The occupational therapist can help you make an interactive calendar to schedule your child's day. You can display the calendar at a place in the house where the child can frequently see it and remember to follow it. They can also help your child make a to-do list and ask them to cross out things once completed. You can also devise a reward system to incentivise your child to complete a certain number of tasks. 
If you do not understand something or want something clarified by the therapist, do not hesitate to ask questions. Give your inputs whenever you feel that something is not working for your child or you want to add some activities that are giving good results. It is also essential to make your child practice and follow the therapist's instructions as best as possible. The therapy's success is contingent upon you and your child's active involvement and participation in the treatment process.
The duration of the entire therapy and each session depends on your child's need and their pace of accomplishing the goals. It may also vary from one therapist to another. The therapist may initially start with one-hour sessions, twice a week, and may later reduce them to 40 to 45 minutes as the therapy progresses.