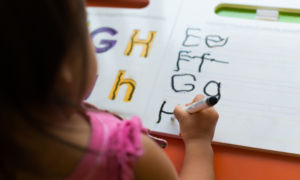 Dysgraphia Symptoms – Signs to look out for
Dysgraphia symptoms are similar to dyslexia, both may affect a child's ability to spell, but the two are very distinct conditions. Dyslexia makes it more difficult for a child to learn to read, whereas, by itself, dysgraphia does not affect a child's ability to read. Dysgraphia has more to do with writing, "messy handwriting" is one of the most common dysgraphia symptoms.
Commonly found dysgraphia symptoms among children

Pre-schoolers have difficulty in colouring between lines and are unable to use the scissors
School going children have difficulty in forming and copying letters or words
Have trouble with spelling and capitalization and mixes cursive and print letters; hence the handwriting looks clumsy or untidy
Trouble with consistency in spacing and difficulty staying within the margins
A significant difference in the spoken and written understanding of things
Omission of letters from sentences when writing but not when speaking
Struggling to visualise words and letters before writing them
Trouble with following sentence structure and rules of grammar when writing but not when speaking
Since the whole process is complicated and slow, children have a habit of saying what they are writing out loud in order not to lose their train of thought
Trouble focusing on other things while writing due to which they have extreme difficulty during notetaking
Usually have difficulty maintaining a grip on a pencil or have a painful grip, resulting in hand cramps.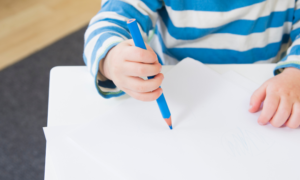 Some other dysgraphia symptoms are 
Children also have a habit of watching their hands while writing and have unusual hand and body positions when writing. Sometimes the placement of the paper or notebook the child is writing on is also unique.
Children also sometimes mix upper and lower case letters while writing.
Teenagers will avoid using complicated sentences and write in simple sentences, yet their writing will have more grammatical errors than their peers.