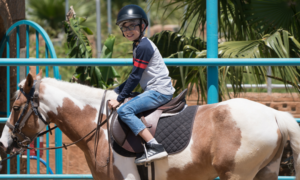 Equine therapy for dyspraxia
Equine therapy uses the physical motion of riding a horse to stimulate and improve cognition, concentration, balance and motor skills in children with dyspraxia. Thirty minutes of horse-riding sessions twice a week can help children with dyspraxia enhance their physical ability. Remember to hire a trained coach for this activity, as it is a specialised sport which can cause grievous physical injury if not done correctly.
Equine therapy can help children with communication, physical and developmental challenges. It also helps children with their behavior, emotional or social problems by interacting with the horse.
Equine therapy takes place outdoors, sometimes one on one or in small groups of three or four. Children are less likely to be overcome by sensory triggers when they are outdoors.
Before riding, it is important that children build a good relationship with the horse. Children who struggle with motor skills could be benefited by brushing the horse, putting on a harness, closing and opening buckles and straps etc.
Riding a horse triggers around a hundred joint movements in the child riding it, which in turn stimulates the neuromuscular system. Stimulating the neuromuscular system develops a sense of space and balance (proprioception) and slowly children learn to move the body and limbs accurately.