Dyspraxia diagnosis – You see symptoms of dyspraxia; what-next?
Once you see symptoms of dyspraxia in your child, understanding where to get a formal dyspraxia diagnosis what one can do as a parent can be challenging. Getting basic information is preliminary to start the process of helping your child. As a parent, one must first understand and accept that a child cannot outgrow dyspraxia, but there are ways to manage their problems. One can start by learning all they can about dyspraxia and note the specific signs that their child shows while taking in the input from the child's teacher at school. Observe the child's muscle strength, grip, balance, flexibility, manner of walking, skipping ability, and other skills and patterns having to do with movement. Pay attention to their visual and spatial skills, hand gestures, and similar areas of development. If you suspect the presence of dyspraxia in your child, take your child for a formal dyspraxia diagnosis from a professional to understand your child's needs.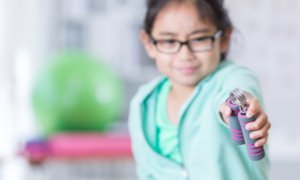 The professional will require certain specific information from you as a parent. They will need your child's entire, detailed medical history, including questions about their birth; general developmental milestones like when the child first started walking or crawling. They will also ask about your child's overall health and your concerns regarding what you've observed.
It is imperative to get a dyspraxia diagnosis to understand the child's problem better, and a successful dyspraxia diagnosis allows one to get the appropriate treatment and support for their child.
Besides, with a correct dyspraxia diagnosis, stress due to uncertainty is also reduced. Even though you may suspect dyspraxia as early as in the pre-school years, a definite dyspraxia diagnosis is usually only made after a child is four or five years of age. In collaboration with an occupational therapist, a professional usually diagnoses dyspraxia by the exclusion process (ruling out other possibilities causing coordination difficulties).
Motor ABC is commonly used for assessment, which tests a child's fine motor skills (drawing, writing within the lines, etc.) and gross motor skills (jumping, moving around, balancing, etc.).
The professional will also assess your child's performance by comparing their resultant score with the average scores for that age group. Then, they will prepare a full-fledged report on your child's condition and specify the areas they require help in. It can be done only by professionals after thoroughly examining the child's issues. Once formally diagnosed, it is essential to get started with the treatment as soon as possible.