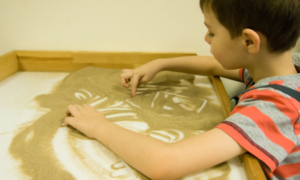 Occupational Therapy for children with ADHD and Learning Disabilities
The term 'occupation' refers to all those actions that give people a sense of independence and identity, ranging from essential everyday work to leisure activities. Occupational therapy (OT) is a branch of healthcare that helps people with physical, sensory, or cognitive difficulties to perform their daily activities (occupations) at school, workplace, home, or any other setting. It helps people overcome social, emotional, and physical barriers, making them not just physically but socially and emotionally independent as well. 
Occupational therapy commonly includes interventions to help children with disabilities participate fully in school and society. An occupational therapist usually:
Conducts an individualised evaluation of the child and set specific goals
Customises intervention to advance the child's performance in daily activities and their ability to reach the set-goals
Evaluates the effectiveness of the therapy regularly to make required changes to the plan of intervention
The primary purpose of occupational therapy is to allow children as much independence as possible in performing their daily tasks. An occupational therapist improves their visual perception, motor problems (fine and gross motor skills), or attention difficulties. Occupational therapy can also help children who struggle with self-regulation and sensory processing.  As children are increasingly able to perform or manage themselves independently, their self-esteem is enhanced, and a sense of purpose resurfaces.