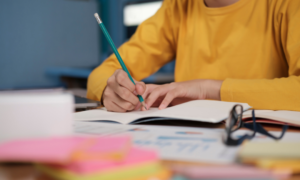 Dyscalculia Diagnosis
If you see signs of dyscalculia in your child get a formal dyscalculia diagnosis done. Start noting down the difficulties they experience at home as well as with their schoolwork when it comes to math. Gather as much information about dyscalculia – what it is, signs, dyscalculia diagnosis  and how it varies among children. You must understand that most children, at one point or another, may have difficulty with math and feel anxious about it, but dyscalculia is not math anxiety. Children with a formal dyscalculia diagnosis often get intensely emotional with mathematical concepts and ideas, which can cause them anxiety. They may get upset or frustrated, even while playing if the game involves doing math in any manner. It is also important to remember that dyscalculia does not take the same form in every child and that its manifestations may be unique.
Talk to your child's mathematics teacher to understand where they are having trouble and understand the exact situation. Try talking to other teachers as well to find out if they have seen your child struggle with numbers. Talk to the special educator or counsellor at school to understand and pinpoint the exact issues your child is facing.
If the special educator or counsellor also share your concern, you should seek help from a professional to get a formal dyscalculia diagnosis. The professional will ask you questions about your child's medical and family history, their general health, the mother's experiences during the gestation period, and any complications regarding the child's birth. The answers to these questions rule out the possibility of any other factor causing the issue in your child.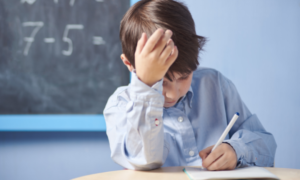 After the clinical interview, the professional will administer a series of tests to confirm whether your child has dyscalculia, as it is challenging to identify dyscalculia via a single diagnostic test. The test usually measures the child's performance based on the following four skills:
Computational Skills (ability to perform arithmetical operations)
Mathematical Fluency (how easily does the child recall basic mathematical facts)
Mental Computation (mental-maths abilities)
Quantitative reasoning (ability to solve word-based math problems)
The test will determine your child's ability to;
Do necessary math skills like counting, addition, subtraction, multiplication and division to know when to add, subtract, multiply, divide depending on the problem
Organise objects in a logical way
Measure-telling time, using money
Estimate number quantities
Self-check finished work
Find alternate ways to solve problems
After a detailed assessment, the professional prepares a report that formally gives your child a dyscalculia diagnoses and addresses the requirements of your child. It is essential to understand your child's specific needs as all children with dyscalculia do not have the same problems.