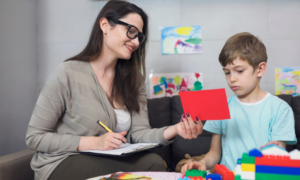 How CBT helps children with ADHD and learning disabilities
In many cases, children enjoy taking cognitive behavioural therapy (CBT) and have fun with the activities and exercises performed during the sessions. How CBT helps children with ADHD and learning disabilities is that it has a positive effect on your child if they are actively involved in the process where they get to fill up worksheets, draw, colour pictures, and play games with the therapist. However, the exact nature of activities depends on their age group and cognitive state. For example, instead of talking about an event, the therapist may ask the child to draw the event as it happened. They can also give them a sheet of paper with characters drawn on it and ask your child to write dialogues for them in the same manner in which an event, say a quarrel with a friend, had occurred.
Another example of how CBT helps is by engaging your child in a conversation to involve them in playing a game. While playing, the therapist would ask your child questions like, "Would you mind if I took two turns and skipped one of yours?" When the child answers that they may not like that, the therapist may question them on their behaviour by asking, "How would your friend feel or react if you skipped their turn?" Asking such reflective questions gives your child a chance to think and explain. Conversations like these may impact a child more than merely telling them that their behaviour was wrong, and they need to change the way they behaved.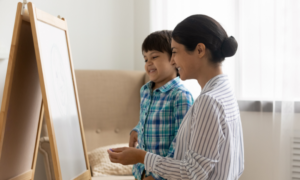 CBT is successfully used to manage comorbid disorders like ADHD that are often associated with learning disabilities. Children with ADHD are distracted very quickly; the therapist can help create a schedule that allows them to focus better. One example for creating a plan is, letting your child study with short breaks every 50 minutes or so — where they can take a walk, call up a friend, step out of their room, etc. — instead of studying continuously for hours. The therapist can also suggest ways to make study fun by; using a blackboard on which the child can write so that the child does not feel bored while studying or role-playing, where the child plays a teacher and the parent plays the student. Through these methods, your child sees learning as an activity rather than compulsion and gradually, they may start liking it. 
As children with learning disabilities often have a low or diminished sense of self-worth, CBT can change how they view themselves and make them feel confident. You may notice an increase in productivity and motivation in them to complete tasks. Your child may start taking a positive approach to challenging events instead of getting disheartened. It also helps them interpret the facts differently from before because CBT works on changing your child's thought pattern instead of solving the problem just for the moment.