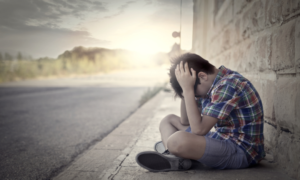 Purpose of CBT – To help children with learning disabilities and ADHD
The purpose of CBT is the identification of destructive, irrational, unrealistic, or harmful thought patterns, replacing them with more objective and realistic thoughts. For example, if your child is not performing well academically, they may think, "I'm worthless" or "I'm not making enough effort." Such negative thoughts may lead to anxiety or depression and are usually expressed in irritation, withdrawal and fatigue. It may even lead to suppressed appetite and a change in sleep patterns. The purpose of CBT is to help children determine these patterns of negative thoughts and help them to develop healthier alternatives.
Cognitive behavioural therapy combines two highly effective kinds of therapy – cognitive therapy and behaviour therapy.
Behaviour therapy attempts to weaken the connections between troublesome situations and your child's habitual reactions to them, such as fear, depression, etc. Behaviour therapy relaxes the body and mind so that your child can feel better, think more clearly, and make better decisions.

Cognitive therapy helps show your child that the way we think affects how we feel emotionally. Cognitive therapy aims at problem-solving in the present rather than focusing on past experiences.
Purpose of CBT – Young children

If your child is young (four or five years old) and their cognition has not fully developed, only behavioural therapy is helpful. As your child grows and their belief systems begin to formulate (at eight to 10 years of age), they develop certain kinds of behaviour and thought patterns. These behavioural and thoughts patterns result from your child's long struggle with learning disabilities from a young age. These patterns may be unrealistic and destructive, hindering your child from living up to their maximum potential. CBT may, thus, prove beneficial to them by helping them change these patterns.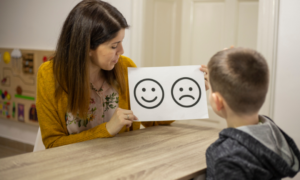 Purpose of CBT – Older children

Therapists adapt traditional CBT techniques for children with learning difficulties and ADHD by designing the sessions where they work more with symbols and pictures and reducing language use. A therapist may use art or a different conversation process, appropriate for your child's age, to highlight thoughts and metaphors that identify the problem areas. Instead of performing therapy in a corrective format, some therapists try to build insight and motivation for your child. They use spaces that make them feel good and at the same time work to identify their strengths. The sessions are carefully regulated, with lots of repetition and prompting. Emphasis is on letting your child find activities that they find pleasurable. Excelling in activities that they choose gives them a real sense of achievement and improves the mood. 
Homework and practice are also an essential part of CBT; the therapist may ask you to keep a journal, fill out worksheets or draw. They may ask your child to practice the techniques and skills by performing some activity or task that they learn during therapy on their own to build upon them and work through the issues. The homework part will allow them to apply what they understand and become aware of, during therapy in their everyday life. If something is not working for them or is too strenuous for them to do, it is imperative to discuss that with the therapist and modify the plan or goals. The  purpose of CBT is to apply the acquired techniques and skills in your daily life so that your child can cope better and live more holistically.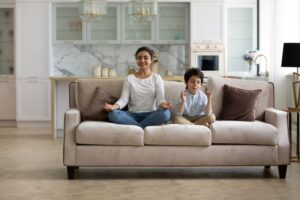 Cognitive behaviour therapy involves the family and teachers to enable the child to practice the learnt techniques outside of the therapy session. CBT is the most used type of psychotherapy. It offers a relatively quicker identification of the specific difficulties and focuses on coping with them in the present, as the therapy is going on. 
Children with learning disabilities sometimes go undiagnosed for years. When they finally get diagnosed, their struggles are no longer limited to academics but have gradually crept into other aspects of their life. They frequently struggle with self-esteem, have difficulty in communicating and dealing with their peers, suffer from bullying or having themselves become a bully. Some of these experiences affect their mental being and lead to thought patterns incongruent with reality, causing issues that exacerbate the difficulties they are already struggling with. Cognitive behavioural therapy can help change these behaviours and attitudes that often come to co-occur with learning disabilities. Anxiety, panic attacks, depression, extreme defiance or shyness, social isolation, aggression, even violence, or preference for solitude are consequences of having a learning disability. Correcting and restructuring thought patterns could create more positivity around the self and how your child views their worth, enabling them to cope better with life in general.