Dysgraphia advice for parents
There are many ways that a child can be helped at home to better cope with dysgraphia. Some dysgraphia advice for parents – First, understand the areas in which your child particularly struggles and provide help accordingly.
Encourage your child to speak things out first, and record themselves while expressing their ideas, talking about their thoughts on a subject, or telling a story. Then, play the recording when they sit to write. Playing the recording will give them the confidence to write as they are already familiar with the topic.
Use clay to practice forming letters with your child. It will help with the child's fine motor skills and reinforce the textures of letters in their mind. You can also ask your child to etch letters into the clay with a pencil. Working with clay is a sensory technique that provides better information to the brain about how letters are made and make them easy to remember.
Allowing your child to focus on feeling and not seeing how letters are formed can also prove beneficial. For example, you can trace letters on the child's back and palm and see if they can replicate the same on paper or your back or palm.
Watch videos on how trying different pencil grips might help the child.
Another dysgraphia advice for parents is to try writing aids for comfort.
Teach your child to relieve stress before writing by shaking or rubbing their hands together very fast. Squeeze stress balls
Teach your child typing skills early and see if it proves to be more comfortable than writing with one's hand.
Writing big can help with remembering and make letter-formation more memorable is another piece of dysgraphia advice for parents. For example, to enhance sensory input, you can let your child use shaving cream or spray paint to write letters or write letters in the foam of cream or damp sand.
Using wide-ruled paper or paper with raised lines aids in aligning letters and words while writing by hand.
For improving hand-muscle strength and coordination, allow your child to squeeze things, like a stress ball or sponge.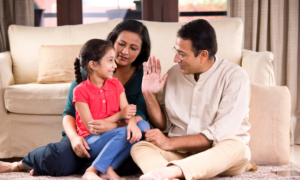 Some more Dysgraphia advice for parents are:
Practice organized or structured storytelling with your child. Ask them about their day and have them start with an introduction like what day was it, and then move on to what they did in the morning, the afternoon and the evening, or allow them to move in progression towards what they did at different points of the morning, or during play. Then, let them end by describing how the day or the event went overall.
Do not criticise "sloppy finished work" because children with learning disabilities often feel less than competent. Instead, praise the effort they put in their work by offering positive reinforcement.
Acknowledge your child's condition, and talk to them about it. Help them understand what their condition is and how it is not their fault.
Show your child that you are there to help and that you understand. Help them build self-esteem by practising self-advocacy and offering the right kind of praise where the child does not feel patronized. Help them stay motivated to improve by showing examples of others who had the same struggle and letting them know that they can excel at writing.