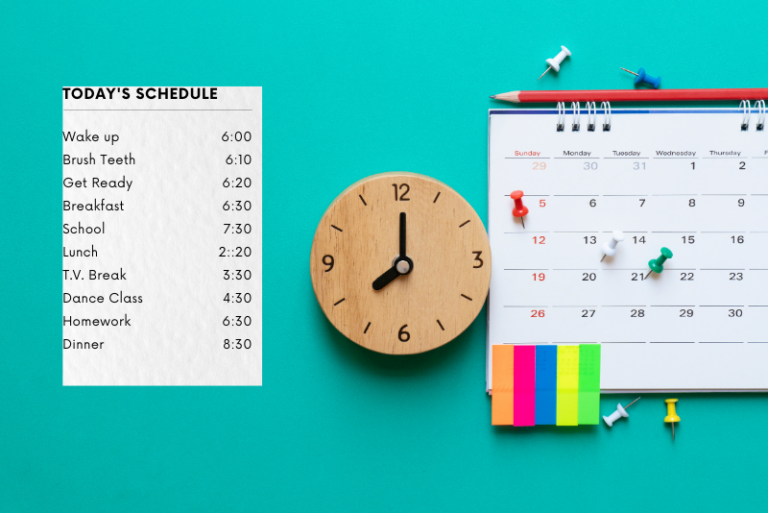 Importance of routine for children with LD and ADHD
Routines are the way we organise ourselves, a way we get things done. Routine help us figure out when to get things done, in what order and how often. Most places have a set schedule like schools giving children a sense of security, predictability and self-discipline. Hence, it makes sense if the home environment is also similar. Those parenting a child with a learning disability or ADHD would have probably heard about the importance of routine for children and a structured environment. Children with learning disabilities and ADHD find it difficult to structure their time and struggle with sequencing actions. They feel incredibly anxious if they do not know what is next for them – either immediately or in the future. When a child has a schedule and a day-to-day routine to follow, it adds structure to their lives. Children with ADHD or a learning disability find it more difficult as they struggle with self-control or the ability to regulate themselves. It means that they find it hard to stop impulsive behaviours and keep their focus when there are many distractions from every direction. Consistent house rules, expectations and consequences along with a fair amount of positive reinforcement from the parents help them stick to something organised and predictable. When they know what to expect, they have a sense of security which help them develop good habits and self-discipline.
Benefits and Importance of routine for children
Children can learn to set aside a block of time for completing their homework and for morning and bedtime activities with a proper structure. Simple tasks such as taking a bath and getting the school uniform ready the night before school can make getting to school the next day much more manageable. Parents can also create a study or play schedule for their children at home to enhance their child's focus, create fewer distractions and encourage better productivity, ultimately reducing anxiety and disruptive behaviour during the day.
A helpful analogy to explain the importance of structure is the term 'scaffolding'. In other words, the routines, reminders, consistency and limits that parents set for their child in efforts to manage a learning disability is a lot like the scaffolding used on tall buildings which provides support as the building goes up or 'grows'. Similarly, at home, a structure can give support to the child to help them be more competent and eventually, more self-confident. It will help them develop the skills required to structure and organise their lives as they move into adulthood.
There are no rules about how many or what kind of routines you should have. What works well for one family might be too strict and structured for another. Generally, routines might be for things you do every day – for example, going to school or they can be weekly – for instance, dance class every Tuesday. Some routines are occasional like going to the park couple of times a week.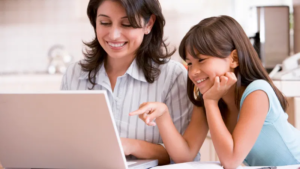 Importance of routine for children  – How to introduce routine
When you first introduce a routine, your child may resist, and you could see an increase in their challenging behaviour. But, you must persevere and adhere to the routine. Over time, your children will accept the new boundaries and will feel safe.
Writing down instructions and notes have been proven to be more effective than verbal instructions as children with learning disabilities tend to forget and have difficulty following more than one instruction at a time. Post-its and reminders stuck in their desk area is a great way to introduce routine. You can also use;
Visual Timetables – shows each stage of the routine in picture format
Objects as a visual prompt – Place an object that closely associates with the task at hand, e.g., a sponge for a bath time routine, a specific cup for a mealtime routine.
Reward system – provide a reward each time they complete a routine, it will serve as positive reinforcement. The bonus can be anything, praise, a tangible reward or a favourite activity with you.
Importance of routine for children  – How to stick to a routine
Once you establish a routine, you and your children must strive to follow through, in the same way, each time. Children take time to get used to a routine; some children may only need a couple of repetitions to be confident about it; some others may take many repetitions.
Keep the schedule short and simple for the children. Make the schedule board visually appealing as this might help grab the attention of children.
Keep the routine flexible and change it a bit if the child is struggling to keep up. But lots of changes are often unpredictable, and the lack of stability could result in children becoming confused and anxious. So, it is essential to keep the changes to a minimum. In an unavoidable circumstance, if you need to change the plan, clearly communicate this to your child beforehand and ensure that they do not feel rushed.
Another great technique that enable sticking to a routine is to include your child in the process of making routines. It is inclusive and can boost their organisational skills which are essential when navigating through adulthood.
However, one important thing to remember is to not overwhelm your children by expecting too much from them. The first few days of introducing routine will be rough, but take baby steps until it is comfortable for both parents and children. Cultivate patience and have a sense of humor while navigating through new routines.