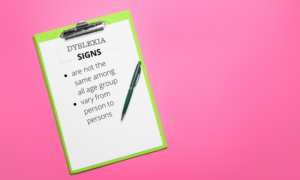 Signs of Dyslexia
The signs of dyslexia are not the same among all age groups; neither are they experienced in the same way by everyone. Instead, how the symptoms and signs of dyslexia manifest themselves may vary from person to person. Given below are some of the signs  that may signify the presence of dyslexia in a child. To formally diagnose a child with dyslexia, parents need to get an assessment done by a professional.
Signs of dyslexia in pre-Schoolers
The signs of dyslexia may be difficult to recognise before the child starts school. However, some early signs may indicate that a child may have difficulty:
• Difficulty in learning simple nursery rhymes or playing rhyming games
• Difficulty in telling left from right
• A history of slow/delayed speech development often mispronouncing familiar and simple words like "cat", "the", etc.
• Finding it hard to carry out more than two instructions at one time, but carrying out tasks individually
• Has difficulty in understanding what they have read
• Often have the feeling that the words in the book are blurred or are dancing or jumping
• Forgets names of friends, family members, colours, etc.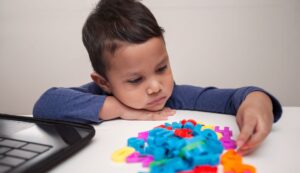 Signs of dyslexia in school years
Signs of dyslexia are more evident and apparent once the child starts going to school
• A significant gap between the child's performance and their grade of instruction
• Exhibits difficulty to read, write and spell
• While reading often omits or repeats words, the level of comprehension is low
• Continues writing letters backwards, primarily similar-looking letters like "b" and "d."
• Often spells the same word differently, confuses upper- and lower-case letters, difficulty with grammar
• Has difficulty taking notes in class due to the slow writing speed; hence finds difficulty finishing tasks on time.
• Oral ability is better than written work as handwriting is poor, therefore may score better in the verbal test than written
• Confuses direction – left/right
• Is disorganised, forgetful and clumsy
• Has difficulty making friends as reading body language is difficult
• Needs more concentration and effort to complete a given task hence appears excessively tired compared to his peers
• Finds it difficult to find the right word or form answers to questions
Signs of dyslexia in teens and later years
Signs of dyslexia in teens and later years are somewhat difficult to address but parents need to look out for the signs even when children are in their teens.
• Inaccurate reading with limited comprehension, therefore, may avoid reading aloud in the class
• Writing slowly with unclear handwriting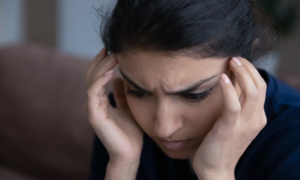 • Finding it hard to concentrate if there are distractions
• Feeling sensations of mental overload and 'switching off'
• Has difficulty in telling left from right
• Has difficulty in the organisation of – thoughts, time, priorities, etc
• Difficulty in remembering rules of games and reading clocks
• Difficulty summarising
• Trouble in understanding expressions, idioms and jokes
• Trouble in learning a foreign language
• Difficulties in understanding mathematics problems
• Has low self-esteem, mostly if dyslexia remains undiagnosed
• Struggling to meet deadlines and finish tests on time, struggles to remember names, numbers and dates
Parents are often confused what to do next once they see some signs of dyslexia in their children. The next section talks about to do once you see signs of dyslexia.