ADHD Definition: Causes & Myths
ADHD Definition
Attention Deficit Hyperactivity Disorder (ADHD) is a neurodevelopmental disorder defined by impairing levels of inattention, disorganization, and/or hyperactivity-impulsivity. ADHD reflects a child's inborn, neurology-based temperament. It affects the brain's parts that help children plan, focus on, and execute tasks. Children with ADHD show some positive traits, like spontaneity, creativity, the ability to lock on to and hyper-focus, while some other characteristics present potential problems, including hyperactivity, selective attention, distractibility and impulsivity. Depending on how they are perceived and shaped, the combination of these traits can work to a child's advantage or disadvantage.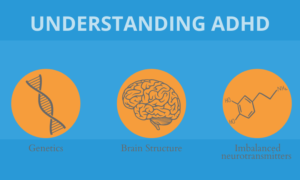 ADHD Definition: Causes

The exact cause of ADHD is not fully understood, although it is considered genetic and runs within the family in most cases. Some research also shows a difference in brain function and structure in children with ADHD compared to their peers. Children with ADHD have a frontal lobe that is developing slower than their peers'. Certain studies suggest that an imbalance in the brain's level of neurotransmitters may be the cause of ADHD.
ADHD Definition:  Myths
It is a common myth that having a learning disability causes ADHD. The fact is that some learning differences, like dyslexia, dysgraphia and dyscalculia, frequently co-occur with ADHD.
Another myth is that ADHD is a made-up condition, it is not a medical condition. The fact is that ADHD and imaging studies show that there are differences in brain development of people with ADHD and without ADHD. It is untrue that children with ADHD can never focus. In fact, if children with ADHD find something interesting they can go into hyperfocus – intense focus.
It is also not true that all children with ADHD are hyperactive. There are three different types of ADHD – Hyperactive, Inattentive and Combined. You can read more about the types here. The most common myth around ADHD is that girls do not have ADHD. The fact is that they are more likely to go undiagnosed because they are mostly prone to the inattentive type of ADHD and have less problem with impulsivity and hyperactivity.