Celebrating Differences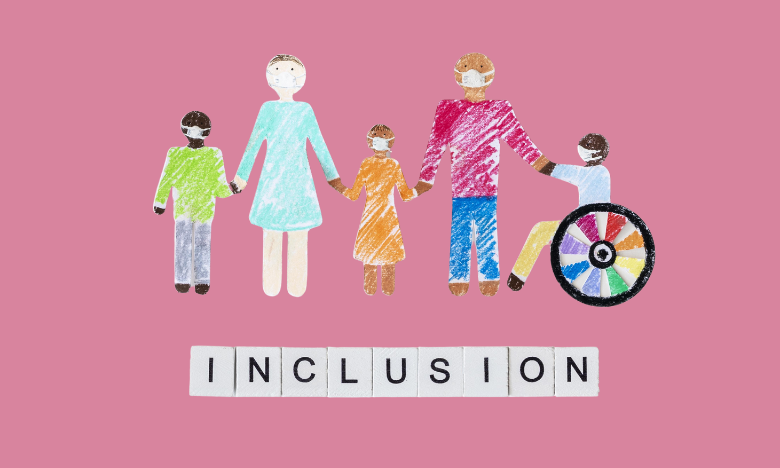 If we think about it, differences are all around and exist in different forms and varieties. Human society consists of distinct individuals who differ in terms of the color of their skin, their nationalities, religion, the way they perceive things, their abilities or lack thereof. Such distinctions and differences do not lead to any problems. The problem begins with our perception of what is "normal" and what is not. When someone or their situation does not fit our understanding of "normal" we tend to lash out by rejecting those individuals by turning them into social pariahs.
Books and movies for the longest time have been used to convey important messages. These include social messages that promote an inclusive society for all, no matter who they are or what their situation is. We, as a society, are heavily influenced by the movies we see because we assume they show the "truth". On the other hand, we believe books show what the ideal world should look like.
This article provides readers with a comprehensive list of movies and books that they can use, either themselves or for the benefit of their children.
A very famous Bollywood movie that focuses on a child with dyslexia. Ishaan is sent to boarding school after he fails to perform academically at his old school The school's new art teacher, Nikumbh, observes Ishaan in class and looks at his academic work and reaches the conclusion that the child has dyslexia. He becomes Ishaan's tutor and helps him read and write using remedial techniques. Gradually, there is a clear improvement in Ishaan's performance and the movie concludes on this note. What is highlighted here is that in search of "marks" the parents and other teachers failed to realize the root cause of Ishaan's problem and were unable to help him. Acceptance and providing a helping hand are possibly the most important messages from this movie.
The movie focuses on a bisexual teenager, Laila, with cerebral palsy, who is wheelchair-bound. After being rejected by the boy she likes, Laila moves to New York for a semester on a journey of self-discovery. There she meets Jared and Khanum, a blind Pakistani girl. She realizes she is attracted to both of them. Her mother later rejects her bisexuality and her relationship with Khanum. The movie deals with important themes of sexuality, self-acceptance, self-love and inclusion.
A Bollywood movie that revolves around Rizwan Khan, a Muslim man with Autism. The movie brings to focus the themes of Islam and disability, both of which are looked down upon in our society. Rizwan' stepson is killed post the 9/11 attacks and the movie follows Rizwan's journey to tell the president of the United States that his name is Khan and he is not a terrorist.
A Hindi language movie that deals with the theme of acid attacks. The movie depicts the real-life story of Laxmi Agarwal. In the film, Malti, the protagonist, falls victim to an acid attack because she rejected the unwanted advances of a man who wished to marry her. The movie deals with Malti's mental health and eventual acceptance of herself. It also focuses on the legal proceedings against the accused and the need to amend the Indian Penal Court that included burning an individual with hot water and acid under the same section.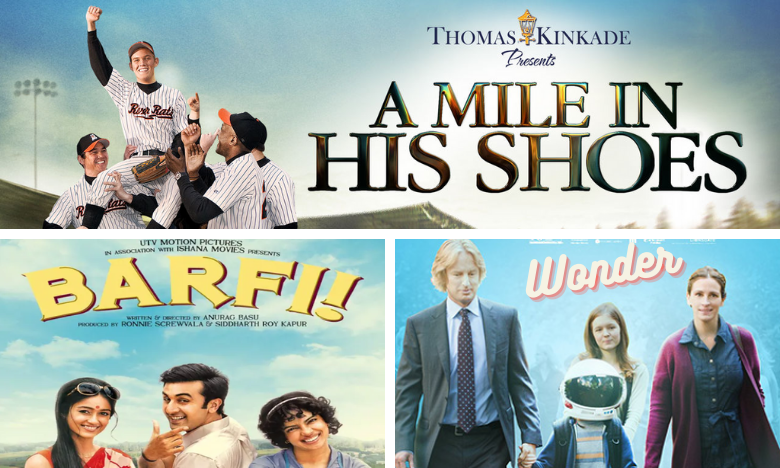 The movie revolves around the titular character, Barfi, and his relationship with two women, Shruti and Jhilmil. Barfi is born deaf and is unable to speak. He falls in love with Shruti who loves him back. However, Shruti's mother discourages her daughter from being with Barfi due to his disabilities and lack of money. Shruti goes on to marry her fiancé and moves away. Sometime later, Barfi ends up falling for Jhilmil (who has Autism). Eventually, Shruti who is unhappy with her marriage comes back only to find Jhilmil and Barfi happy together. The movie shows that having money and being 'normal' are not the reason behind a happy life. One could have none of these things and still be very happy and have it all and not be happy at all.
This 2011 Canadian movie focuses on an 18-year-old boy, Mickey with autism and his baseball career. Mickey is shown to suffer from severe autism. His speaking abilities are limited and he has the habit of referring to himself in the third person and reciting poetry when overwhelmed. Arthur Murphy, the manager of a baseball team discovers Mickey's potential as a baseball player after watching him pitching apples to his pet pig, he is invited to become part of the team. Although he is a good teammate, Mickey is often picked on and made fun of by his teammates. The movie highlights the importance of giving those with autism an opportunity and implores others to treat these individuals with kindness and provide them with respect.
This movie revolves around Auggie Pullman, who has Treacher Collins syndrome and his journey to fit in. He has undergone 27 surgeries to see, smell, speak and hear "normally". Auggie is born with facial differences that have prevented him from going to a mainstream school. He turns into an unlikely hero when he begins fifth grade at the local school. Auggie carries himself with confidence while those around him struggle to find their acceptance and compassion. The movie concludes with Auggie saying, "Be kind, for everyone is fighting a hard battle. And if you really want to see what people are, all you have to do is look".
The movie follows Forrest Gump through various stages of life. This movie is based on a book of the same name. Forrest is bullied and made fun of due to his low IQ and physical disability (he has leg braces to correct his curved spine). However, he is oblivious to his limitations because of his supportive mother and leads a very unrestricted life. He goes on to attain a football scholarship to college, joins the army and serves in the Vietnam war, owning a shrimp boat. Throughout the movie, Forrest is shown to leave his mark on people because of his childlike optimism.
This children's book is written by Sujatha Padmanabhan and is illustrated by Madhuvanti Anantharajan. The book is meant for those between the ages of five and 10. The book revolves around a nine-year-old girl, Chuskit, who wishes to go to school just like her brother. However, Chuskit is in a wheelchair and it is impossible for her to go to school on it due to geographical constraints. Her friend, Abdul recognizes Chuskit's desire to go to school and is able to convince the school and all the students to help build a levelled road to the school that Chuskit can use. The moral of this story was that society at large needs to recognize its role to make the lives of the differently-abled a little easier.
Why Are You Looking At Me? I Just Have Down Syndrome
This book is written by Lisa Tompkins who took inspiration from her daughter who has down syndrome. Lynn, the protagonist just longs to be friends but since she looks different from most of her peers she is unable to make friends. However, Lynn has the same dislikes and likes as others of her age. The author addresses the importance of accepting and embracing everyone's differences and devoting time to truly getting to know someone before rejecting them.
What I Like About Me!: A Book Celebrating Differences
The book is written by Allia Zobel Nolan. The children that are depicted in this book are all vastly different from each other and yet they love that they are all different. Some revel in the fact that their braces dazzle and gleam, while others feel they stand out when they wear their glasses. The book shows children that in a society where 'fitting in' is the norm, being different makes us rather special. The book asks the reader what they like best about themselves and to this end, has a mylar mirror embedded in the last page for the kids to look at themselves and decide.
This picture book is written by Lloyd Jones. It introduces children between the ages five and seven to the concept of depression so that they might find support for themselves or develop an understanding of it to help others. The book puts a twist on the typical fairytale. It revolves around a princess who has everything she wants and is happy until the fog arrives. The book is ideal to begin the conversation at home regarding depression. This book is of great use for anyone who might be supporting a child that is affected by depression, including social workers, psychologists, and school staff.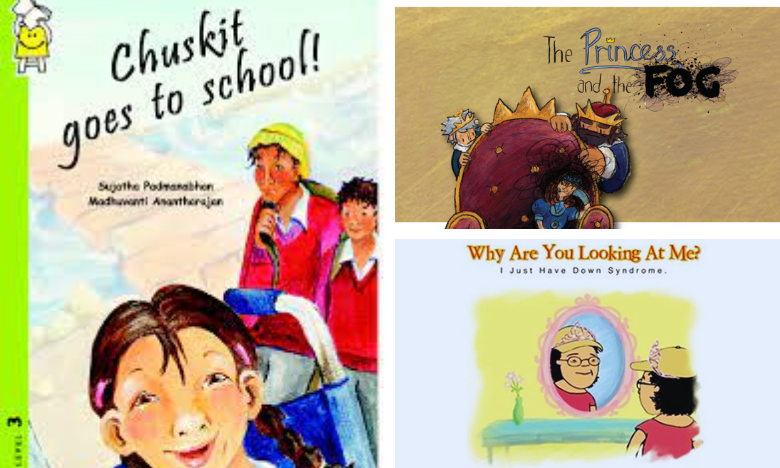 What's the Difference? Being Different is Amazing!
This book is written by Doyin Richards. The book talks about there being different races. The author encourages children to be more accepting. He highlights that our differences do not matter, what matters is what we do together as friends, families, colleagues and citizens.
The author, Al Etmanski, offers ten lessons we can learn from people with disabilities like Greta Thunberg, Steven Hawking, Helen Keller and others. The book talks about how those with disabilities have helped shape history and have played key roles in improving society like the birth of democracy and identifying secrets of the universe.
Divergent Mind: Thriving in a World That Wasn't Designed for You
The author, Jenara Nerenberg, conducted a study of women that have ADHD, autism, synesthesia, high sensitivity and sensory processing disorder and she tried to answer why these traits are overlooked in women. Towards the end, she talks about the many advantages of allowing the unique strengths of these women to flourish and how it can create a better future for everyone.
The author is Moira Harvey. As the title suggests, the book addresses shyness and nervousness in children. The book addresses this through two characters, Mateo and Poppy and what they do when they feel such emotions. This book is told from a child's point of view and is thus of great help to children who are able to identify themselves with this child. The book provides children with the ability to clearly express themselves and guides how to manage or overcome their shyness.
Just Ask!: Be Different, Be Brave, Be You
This book is written by US Supreme Court Justice Sonia Sotomayor. The book aims at celebrating the variety of abilities children and people of all ages have. The author uses her diabetes diagnosis as a child and has written about children facing a variety of other problems. The author concludes, that as children go about asking each other questions and building their community gardens, the author implores the reader to do the same. When one comes across someone different from them but they are not sure why all they need to do is Just Ask.
The movies and books discussed here essentially celebrate differences in our society and drive home the message that there is no harm in being different. If anything, these differences are perhaps what makes our society so very unique and complicated. Who decides what is "normal"? How do we decide this? How is it that in a world where adore and accept different forms of plants and flowers in nature, different breeds of cats and dogs, we fail to accept other individuals just because they are different from us? Do you not think that is time we approach everyone with kindness, respect and an open mind? Doing so would result in a society that functions on love and empathy and not judgement and hatred. A society of acceptance, love and empathy has the potential to create a bright future for all of us here today and for generations to come.